Ali Karimi
Ali Karimi
Name
Mohammad Ali Karimi Pashaki
Age
36
Nation
Iran
Position
AMF, SMF, SS
Ali Karimi "The Asian Maradona" is an attacking midfielder, who can also play on the wing and as a second striker, he is currently playing for Qatar SC who aren't in PES. In PES 5 and PES 6 Karimi was seen as an integral part of the Bayern Munich squad, pitching in with goals often from midfield thus having a preset face being the first and only Iranian so far to have one. In competitions held on Neoseeker, Karimi has thrived under the control of the comp and surprised people with his eye for goal. For these qualities, Karimi has achieved a somewhat cult status among PES users, particularly those of Neoseeker PES Forums.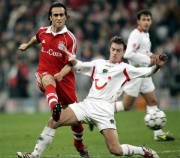 Unfortunately Karimi was released from Bayern Munich, but still remained on the game due to his inclusion in the Iranian national team, under the false name Kaquetz, therefore losing his preset face. Him and speedy full back Hossein Kaebi (Dagaka) ensure that Iran may have some tricks up their sleeve when you play against them
The main aspects to Karimi's game are his dribbling skills (2 Special Ability Stars) and his goal-scoring which he is more than capable of doing with both feet.
Last
edited
by
vanderplonk
on 16 August 2009 at 02:08
This page has been accessed 5,271 times.