Andreas Moller
Andreas Möller
Name
Andreas Möller
PES Age
29
Nation
Classic Germany
Position
AMF
Year Professionally Retired
2004
Key stats
Attack 87

Short Pass Accuracy 90 Long Pass Accuracy 92
Andreas Möller is a German former footballer who played as an attacking midfielder. He is heavily capped and has played for many top teams such as Juventus and Dortmund. Moller is notable for participating in 3 World Cups although he missed the 1990 World Cup final. Meyno is the name given to him by Konami to protect his identity.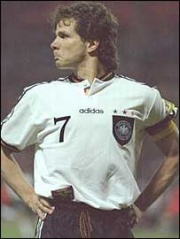 Last
edited
by
henningelvis
on 25 February 2010 at 13:07
This page has been accessed 5,456 times.