Camp Nou
Camp Nou
Opened
1957
Country
Owner
Barcelona
Capacity
99,786
First Appearance
PES as Catalonia Stadium
Camp Nou has been the home stadium of Barcelona since 1957. It is the largest stadium in Europe in terms of capacity. It has hosted numerous international matches, including two UEFA Champions League finals and the football competition at the 1992 Summer Olympics.
Camp Nou has featured on every edition of PES to date and made its licensed debut in PES 2009. As part of the partnership with F.C. Barcelona, Camp Nou will be exclusively featured in PES 2017.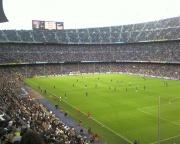 Last
edited
by 177.105.197.167 on 5 September 2016 at 11:11
This page has been accessed 8,628 times.