Christian Wilhelmsson
Christian Wilhelmsson
Name
Christian Ulf Wilhelmsson
Age
35
Nation
Sweden
Position
SMF
Club Squad No.
9
Nation Squad No.
21
Key stats
Christian Wilhelmsson is a Swedish midfielder who plays for Saudi club Al-Hilal who do not appear in the game. In PES 6 Wilhelmsson was a favourite amongst fans due to his impressive development curve, pace, versatility and crossing ability, and although he is still a quality player his stats have decreased in Pro Evolution Soccer 2008 and 2009. He can perform the Elastico.
He will make an appearance in PES 2010 despite his club not appearing in the game because he is a regular in the Sweden set up.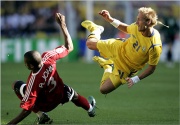 Related Threads
Christian Wilhelmsson.
- last post @ Oct 31, 2003