Copa America
Copa America
Founded
1916
Region
South America
Number of Teams
12 (Finals)
Current Champions
Uruguay
Most Successful Country
Uruguay (15 Titles)
The Copa is a competition of South America's nations which is dominated by Uruguay and Argentina. In order to qualify they must be placed second or higher in their qualifying group or host the tournament.
In PES the tournament is merely a straight knock out competition and winning the Copa America will Unlock players that were before not available in the game.
The current holders of the Copa America is Uruguay.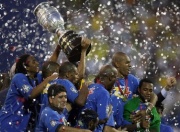 Related Threads
Copa America Update
- last post by
@ Jun 30, 2004
Copa Libertadores Mode
- last post by
@ Dec 26, 2010
Last
edited
by
iffayquiqleey
on 30 January 2013 at 16:54
This page has been accessed 3,239 times.