David Weir
{{Infobox
|title = David Weir |image =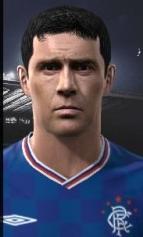 |imagecaption =
|label1 = Name |data1 = David Gillespie Weir |label2 = Age |data2 = 44 |label3 = Nation |data3 =

Scotland |label4 = Position |data4 = CB |label5 = Club Squad No. |data5 = 3 |label6 = Nation Squad No. |data6 = 5 |label7 = Key stats |data7 = Defence 79 Body Balance 85 Stamina 80 |label8 = Previous Clubs |data8 = Everton
        Rangers         

David Weir is a former Scottish footballer last played for Rangers who he as a captains. At 44 years of age he is likely to retire after the first season in Master League meaning it is best to wait for him to regenerate before buying him. Weir's stats are average at the start, though he still gets a fair share of games for club and country, but they are likely to improve after his regeneration.
Related Threads
David Weir
- last post by
@ Aug 13, 2007
Last
edited
by 86.139.159.118 on 5 August 2013 at 07:51
This page has been accessed 2,014 times.