Edit Mode
Edit Mode is a mode which has become one of PES's best successes as many fans say it is one of the best aspects of Pro Evolution, with the abilty to edit team kits, badges, formations as well as editing player's hairstyles and stats.
[edit]
Face Scan Feature
The face scan feature was first introduced in PES 2008 and only available on the PS3 and XBOX 360 versions of the game. What the feature enabled was for users to be able to scan in their own faces by either using compatible console camera equipment or loading an image from the console hard drive. PES 2009 was the year in which the aspect of edit mode was improved greatly and allowed users to make an almost perfect Preset Face for a player who lacked one, an example would be this Vincent Kompany picture, which shows the default face of Kompany, an image scanned onto his face in PES and the real life picture of Kompany: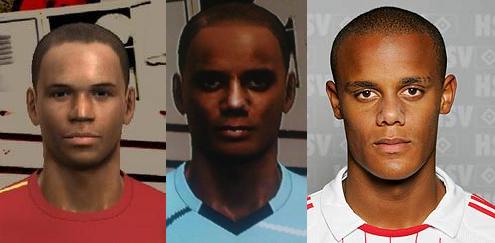 [edit]
PES 2011
PES 2011 was the first time Stadium Editor will be introduced.
It will allow you to create your own stadiums. First you will be able to edit the pitch, whether it's the turf pattern or the pitch layout. Also in that section is what's beside the pitch which you can choose from several different styles including a running track, cement, bricks etc. Then you may build the stands (main stand, rear stand, left stand and right stand) by selecting preset built structures, there are 6 different types. From there you can then change the roof design, ceiling design, wall design and fencing designs similar to certain stadia present in Germany and other parts of the world. Next you can change the seat colour to a range of different colours and then the bench design which varies in 4 styles.
Once all that has been put together - you can now choose the setting for your stadium. You are then given the option to specify the left and right backgrounds for the stadium. This ranges from mountainous, urban or rural regions. Finally you can select the lighting between white, blue, green and orange.
With this tool it should be possible to recreate many different stadiums from all over the world with lots of variation in style. There are currently around 25 stadiums in PES 2011 (not all licensed ones). This is more than PES 2010 which had 22. There will be a total of 25 slots to create stadiums giving you a grand total of around 50 possible stadiums.
Also in the Extra Content mode, you're able to purchase extra stadium parts such as backgrounds, fencing, pitch styles and various stadium designs.
PES 2011 also saw the first time where you can edit logos for competitions to make the game even more realistic.
Related Threads
New game mode 'World Challenge DLC' coming soon
- last post by
@ Mar 20, 2014
Stripping back Master League was the best thing for the game mode
- last post by
@ Feb 28, 2014
More Info About Masterleague Manager Mode
- last post by
@ Jul 14, 2009
Does the american ps2 version of PES have be a legend mode?
- last post @ Nov 27, 2008
'Player Manager' Mode
- last post by
@ Jun 14, 2008