European Championships
European Championships
Founded
1960
Region
Europe (UEFA)
Number of Teams
53 (Qualifiers)
16 (Finals)
Current Champions
Spain
Most Successful Country
Germany (3 Titles)
Spain (3 Titles)
The European Championships or Euros is a competition of Europe's best national teams governed by UEFA. In order to qualify, like the World Cup they must be placed second or higher in their qualifying group (which in the Euro's case is made from 5 to 7 nations). Host nations are automatically qualified.
When teams reach the final phase, they are drawn into 4 groups of 4 and then the top two from each group play in knock out rounds against each other.
In PES the qualifying phase was introduced in PES 6 on the PS2 under International challenge in which true life players would play against nations that did not appear in the game and were not playable i.e. Bolivia and Estonia: they all appeared with fake kits and player names. They then appeared in PES 2008 but the qualifiers were not on the next gen consoles. In the next gen consoles only the finals were playable.
In PES winning the European Championships will Unlock players that were before not available in the game.
The current holders of the Euros are Spain, whom have won it back-to-back in 2008 and 2012.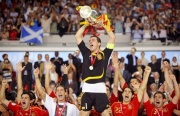 Related Threads
Qualifying for European Masters Cup. How?
- last post @ Oct 2, 2007
EUROPEAN PES3 CHAMPIONSHIP REPORT
- last post by
@ Jan 25, 2005
Last
edited
by 86.8.146.245 on 2 June 2013 at 21:55
This page has been accessed 10,080 times.