FIFA Confederations Cup
Confederations Cup
Founded
1999
Region
International
Number of Teams
204 (Qualifiers)

8 (Finals)

Current Champions
Brazil
Most Successful Country
Brazil - 4
The Confederations Cup is the rehearsel competition of the World Cup.The hosts of the World Cup, the Champions of each federation (UEFA, CAF, AFC, OFC CONCAF and CONMEBOL) and the holding champions qualiy for this tournament. The tournament, however, has not featured on PES due to not being a major tournament.
The current holders of the Confeds Cup are Brazil. The next tournament is in 2017, in Russia.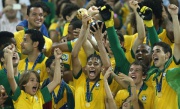 Last edited by
Dion ks 11
on 22 October 2013 at 00:34
This page has been accessed 100 times.