Franz Beckenbauer
Franz Beckenbauer
Name
Franz Anton Beckenbauer
PES Age
29
Nation
Classic Germany
Position
CWP, CB
Year Professionally Retired
1983
Key stats
Dribble Accuracy 91

Short Pass Accuracy 90 Long Pass Accuracy 91
Franz Beckenbauer is regarded by many to be Germany's best defender of all time. This is reflected in his nickname der Kaiser (the emperor). In the Classic Germany team his stats certainly reflect this belief as well. His name in PES 2009 is Behrengauna because of licensing issues and he can only be unlocked if you win the World Cup with Germany. Another reason Beckenbauer is notable is because he is usually credited with popularising the role of the sweeper in modern football and indeed in PES he usually plays as a sweeper. He is a recommended signing and he would break into any Master League team.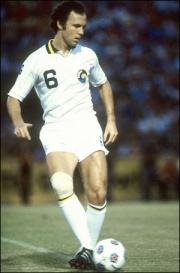 Last
edited
by
henningelvis
on 25 February 2010 at 12:12
This page has been accessed 19,210 times.