Free kicks
A free kick is obtained in PES when you are fouled by another player outside the box, an opposition player is caught offside or when a player on the opposition team dives unsuccessfully. However this is then an indirect free kick where you are not allowed to shot at goal unless another player has touched the ball. You can also earn a free kick though a dive yourself. A player can shoot from a free kick from anywhere in the opposition half.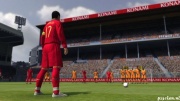 [edit]
Styles of free kick
There are several styles of free kick in the PES series, famous free kick takers like Roberto Carlos, Juninho Pernambucano, David Beckham and Cristiano Ronaldo have their own style whereas most players use one of the default styles. Players will only use their own style in a position to shoot meaning they have to be fairly close to goal and not too far on the wing. A player will then use the default style but this doesn't actually restrict shooting.
[edit]
Types of free kick
[edit]
Quick free kick
A player can take a short pass quickly from a free kick by pressing the short pass button. This can only be performed when you see a player run over to the ball and put his hand on it. This may not happen in the case of an injury or a card being awarded.
[edit]
Multiple takers
An extra player can be taken up to help in a free kick (this player is the second taker in the formation settings), this is done by pressing the left and right bumpers or L1 and R1 at the same time putting him on the left or right of the ball. Holding the left bumper or L1 activates the second taker, a short pass will tap the ball out for the main taker to shoot, pass or just take the ball. The second taker can also shoot or long pass in this situation but it is generally better to use the main taker for this purpose. This can be most effective when just outside the box where you are able to gain a better angle at goal.
[edit]
Defending a free kick
When defending a free kick the wall can be instructed to jump, rush forward or a combination of both. The goalkeeper can also be instructed to move behind the wall. The PS3 controls are circle to rush out, triangle to get the goalkeeper to stand behind the wall on the goal line, square to jump and X to stand still.
[edit]
Tutorial
Below is a tutorial on how to improve your free-kick taking.
[edit]
See also
Related Threads
Free Kick Guide
- last post by
@ Jul 2, 2005
Free-Kicks
- last post by
@ Dec 26, 2007
Free-Kicks
- last post by
@ Oct 7, 2003
Free Kick Stats
- last post by
@ Oct 11, 2006
free kicks
- last post @ Oct 28, 2002