Goal celebrations
Goal celebrations occur after a player has just scored a goal. They can be edited by selecting "motion" in the edit mode, there are 71 to choose from. Many players have their trademark celebrations in the game such as Kaka and Adriano pointing to the sky and Raul kissing his ring finger.
[edit]
Criticism
The celebration involving the player celebrating with the substitutes has been criticised as it always shows the defenders only. Also many trademark celebrations such as Nani's don't feature in the game. Luis Suarez trademark celebration which gave him the nickname 'El pistolero' is also not featured in the game.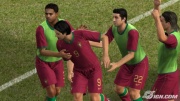 Related Threads
Goal Celebrations!
- last post by
@ Mar 27, 2007
Simple Question about Goal Celebrations!
- last post by
@ Aug 14, 2006
Goal Celebrations
- last post by
@ Dec 30, 2004
Goal Celebrations
- last post by
@ May 2, 2005
Cool Goal Celebration
- last post by
@ Nov 1, 2004