God Region
The God Region, also called the God Zone, Divine Zone or Divine Region, is, as explained in PES 2008 official guide, the ability point region that lies between ratings of 95 and 99.
As the official guide says, abilities of 95 and above, highlighted in red in the PES menus, signify a much greater leap in prowess with every point up to and including 99, as the diagram below illustrates. The PES 2008 development team called this the God Region, with statistics of this type reflecting the incredible prowess of certain players.

An example in the gallery beneath shows Ibrahimovic' s God Region stats in PES 2011: Attack, Body Balance, Dribble Accuracy, Shot Technique and Technique are all in the zone between 95 an 99 and are highlighted in red.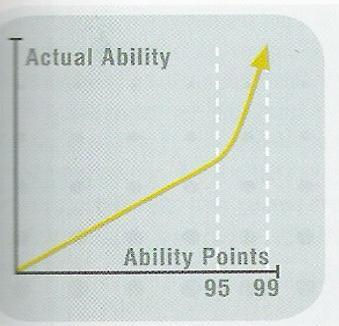 [edit]
Gallery