Jamie Redknapp
Jamie Redknapp
Name
Jamie Frank Redknapp
PES Age
25
Nation
Classic England
Position
CMF
Year Professionally Retired
2005
Key stats
Response 80

Short Pass Accuracy 87 Long Pass Accuracy 85
Jamie Redknapp (pronounced RED-nap) is a former footballer now playing for Classic England under the alias Reylack. His reason for inclusion is because of the modernisation of the classic teams which saw more recently retired players replacing arguably superior players such as Bobby Charlton and Kevin Keegan. His father Harry Redknapp is the current manager of Queens Park Rangers and Jamie himself used to play for the London-based team. Redknapp also played for Liverpool where he was a regular and his PES stats are based on this time in his career.
Redknapp is also cousins with Chelsea midfielder Frank Lampard.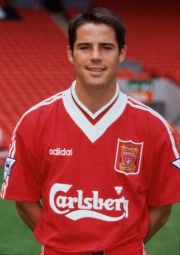 Last
edited
by 218.19.7.53 on 19 January 2013 at 07:11
This page has been accessed 3,759 times.