Johan Cruyff
Johan Cruyff
Name
Hendrik Johannes Cruijff
PES Age
27
Nation
Classic Netherlands
Position
SS, AMF, WF, CF
Year Professionally Retired
1984
Key stats
Attack - 98
Dribble Speed - 97
Shot Accuracy - 95
Johannes "Johan" Cruijff (pronounced CROIF) is considered one of the best players, if not the best, that has ever played, alongside Brazilian Pele and Maradona.
He was an allround player with a sharp vision and if he had won the World Cup with Holland he would be much more appreciated in the world. He is the best Dutch player who ever stood on the field.
Cruijff is the head coach for the Catalonia national football team. He also coached Ajax and was responsable for his self made "Dream Team" of FC Barcelona. In real life he is most famous for his spell at Ajax and FC Barcelona but he also played for teams in the USA and Feyenoord. To make him appear in modes such as Be a Legend and Master League when starting these modes make sure that "Hidden Players" option is put to "Yes".
The former Dutch footballer is based in the Classic Netherlands team. He plays in a team that also features quality players such as Marco van Basten, Ruud Gullit and Frank Rijkaard. He is known as Cwarim in PES. He has a son called Jordi, who used to play for Barcelona and Manchester United. He was also famous for his Cruyff Turn ability which at the time was a mind-blowing piece of skill. This skill has been replicated in PES, under Quick Turn.
Cruijff always played with number 14. Since 2006 former club Ajax never will play with number 14 to honor Cruijff.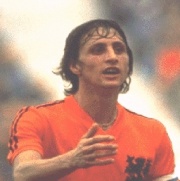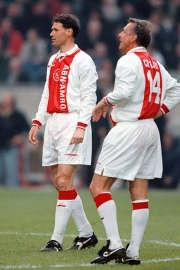 Last
edited
by 82.16.57.22 on 11 January 2014 at 13:18
This page has been accessed 33,174 times.