Jorge Burruchaga
Jorge Burruchaga
Name
Jorge Luis Burruchaga
PES Age
23
Nation
Classic Argentina
Position
AMF, CF
Year Professionally Retired
1998
Key stats
Attack 82

Agility 90 Dribble Accuracy 91
Jorge Burruchaga is an Argentine former footballer of Basque descent. In real life he is most famous for scoring the winning goal in the final of the 1986 World Cup and also participating in the 1990 World Cup. At club level he mainly played for FC Nantes and Independiente. In PES 2009 he is a member of the Classic Argentina squad under the name Bujutava and he is the first choice in attacking midfield as the team lacks players in that position although that isn't to say that Burruchaga isn't a world class player anyway.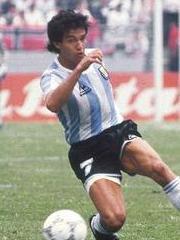 Last
edited
by 190.140.208.43 on 15 January 2014 at 14:09
This page has been accessed 3,675 times.