Juan Roman Riquelme
Juan Riquelme
Name
Juan Román Riquelme
Age
36
Nation
Argentina
Position
AMF
Club Squad No.
10
Nation Squad No.
Key stats (PES 2012)
Short Pass accuracy - 97
Free Kick Accuracy - 95
Technique - 93

Juan Riquelme (pronounced rik-EL-may) is an Argentinian footballer who plays for Boca Juniors. He possesses great technical abilities, acting as an excellent playmaker, being one of the best passers and set piece takers in PES. He was portrayed as a black player in PES before receiving a Preset face.
[edit]
PES 2010
He has the card Classic No. 10 meaning he plays as an old-style static play-maker who makes use of deft touches and accurate passes rather than pace to assist his team mates.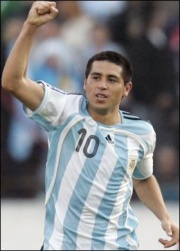 Last
edited
by
newadventures
on 12 April 2013 at 20:04
This page has been accessed 7,689 times.