Julio Cesar (Classic Brazil)
Júlio César
Name
Júlio César da Silva
PES Age
23
Nation
Classic Brazil
Position
CB
Year Professionally Retired
2001
Key stats
Defence 86

Body Stamina 83 Long Pass Accuracy 84
Júlio César is a former footballer who played for Juventus and Dortmund as well as Brazil internationally. Although he only played 13 games for Brazil he is included in the Classic Brazil team as a centre back under the name Jenio Cemar. He gets a lot of first team appearances as Classic Brazil have few defenders in their roster, making them quite an easy team to score against in comparison to other classic teams. He is not to be confused with the goalkeeper Julio Cesar.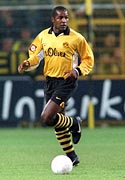 Related Threads
Classic Brazil Names?
- last post by
@ Nov 10, 2007
Classic Brazil - Classic Argentina
- last post by
@ Oct 28, 2008
classic brazil?
- last post by
@ Dec 17, 2007