Karl Svensson
Karl Svensson
Name
Karl Svensson
Age
34
Nation
Sweden
Position
CB
Club Squad No.
3
Nation Squad No.
n/a
Key stats
Defence 77

Body Balance 86 Stamina 82

Previous Clubs
Rangers
Karl Svensson is a Swedish defender who currently plays for Swedish team Jonkopings Sodra. Karl is a strong defender who plays above his stats and has a decent development curve.
[edit]
PES 2011
Due to the exclusion of IFK Goteborg, he will not appear in the game.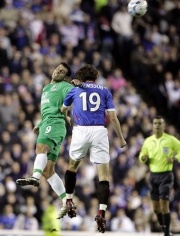 Last
edited
by 212.200.213.176 on 7 November 2014 at 05:51
This page has been accessed 2,236 times.