Kyriakos Papadopoulos
Kyriakos Papadopoulos
Name
Kyriakos Papadopoulos
Age
23
Nation
Greece
Position
CB
Club Squad No.
92
Nation Squad No.
Kyriakos Papadopoulos is a Greek wonderkid who plays for Schalke 04.
[edit]
PES 2009
He is one of a few promising Greek footballers in PES 2009 along with Sotiris Ninis and Konstantinos Mitroglou despite having poor stats to begin with. He starts the game as a 16 year old.
[edit]
PES 2013
Although Papadopoulos has become a player of Schalke 04, his stats aren't that impressive, as he is a little underrated. So, he isn't worth to look for in Master League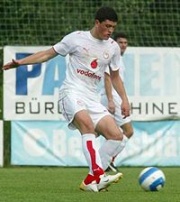 [edit]
Gallery