Roberto Baggio
(Redirected from Lon Barron)
Roberto Baggio
Name
Roberto Baggio
PES Age
26
Nation
Classic Italy
Position
SS
Year Professionally Retired
2004
Key stats
Dribble Accuracy 96

Short Pass Accuracy 95 Shot Accuracy 94
Roberto Baggio is a retired footballer playing in the Classic Italy team. He took part and scored in 3 World Cups and many remember him for missing the decisive penalty in the shoot-out in the final of the 1994 World Cup. Another notable characteristic was his pony tail and beard which started turning grey later in his career and this can be seen in some games such as PES 3. A true legend of the modern game he played for Milan, Inter and Juventus and he is a recommended buy in any Master League as he is arguably one of the best support strikers alongside Cruyff. When unlocked his name must be changed from Lon Barron.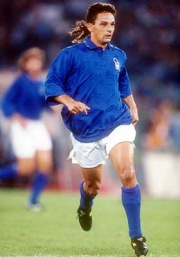 Related Threads
baggio
- last post by
@ Feb 24, 2004
Last edited by
Whelan
on 22 March 2009 at 10:23
This page has been accessed 16,488 times.