Luis Figo
Luís Figo
Name
Luís Filipe Madeira Caeiro Figo
Age
42
Nation
Position
SMF, AMF, WF, SS
Key stats (2013)
Dribble accuracy - 98
Long pass accuracy - 86
Ball control - 92
Previous Clubs
Sporting CP
Barcelona
Real Madrid
Inter Milan
Luís Figo is a retired Portuguese winger who last played for Inter Milan.
[edit]
PES 2010
He appears in the PES Shop under the fake name Fillco.
[edit]
Real Life
He was once a member of the famous Galacticos at Real Madrid which also included Zinedine Zidane, Roberto Carlos, Ronaldo, Raul, David Beckham and many others who made Real a force to be reckoned with in PES games.
Figo was once World Player of the Year but in recent installments Konami have been harsh on his stats.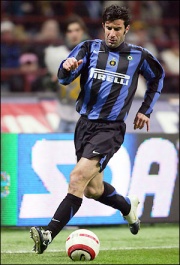 Related Threads
Who Is Better In Long Term. C.Ronaldo Vs Figo/Figo Reborn
- last post by
@ Jul 5, 2007