Marc Overmars
Marc Overmars
Name
Marc Overmars
PES Age
27
Nation
Classic Netherlands
Position
WF, SMF
Year Professionally Retired
2009
Key stats
Acceleration - 98
Dribble Accuracy - 87
Dribble Speed - 96
Marc Overmars is a Dutch former footballer who last played for Go Ahead Eagles in real life. Overmars had previously announced his shock retirement in 2004 while playing for Barcelona but the former Arsenal star decided to return to football for one more season in 2008 for the Dutch Second Division side.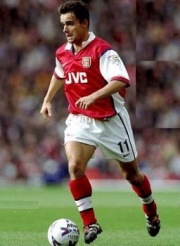 He is playing for the Classic Netherlands team in PES 2009 although a return to being licensed can't be ruled out if he decides to try his luck in the top division of the Dutch league or elsewhere. For now he is known as Orhainmalz because of licensing issues. In his prime he was known as "The Roadrunner" because of his blistering pace which is replicated in the Classic Netherlands team where he features alongside past greats such as Cruyff and Van Basten.
Last
edited
by 82.145.218.54 on 5 December 2014 at 18:38
This page has been accessed 5,796 times.