Marcelo Zalayeta
Marcelo Zalayeta
Name
Marcelo Danubio Zalayeta
Age
36
Nation
Uruguay
Position
CF
Club Squad No.
25
Nation Squad No.
Key stats
Marcelo Zalayeta is an Afro-Uruguayan striker playing for Peñarol. The former Juventus hitman is one of the best players at Bologna as he finds it very easy to hit the back of the net. He also has a preset face from his Juventus days.
[edit]
PES 2009
He has to be registered to Bologna from PES Shop were he appears as Zamaella.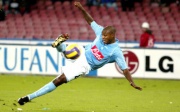 Last
edited
by 186.55.55.250 on 19 August 2012 at 17:58
This page has been accessed 2,788 times.