Master League Default Players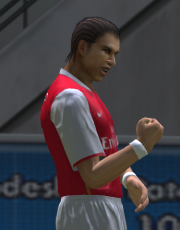 The Master League Mode Defaults are fictional players created by Konami. It was compulsary to start off with these below average players until PES 4 which was the first time you could start off with the match mode players of the team you selected.
In many editions, the best player out of the bunch was Brazilian striker Castolo who was very quick compared to the rest off the team. Of the current crop of players, the best youth potential is Gutierrez.
[edit]
ISS Pro Evolution
The original squad consisted of these players. In the following series no one of them were used again.
[edit]
ISS 2 & PES
The second squad consisted of these players. As the series progressed, many of the "new" players were simply these players with different spellings of their names.
This edition saw the addition of Zamenhof as a third keeper for the squad.
[edit]
PES 5 & 6
The squad composition remained the same between these two editions of the game.
[edit]
PES 2008
In PES 2008 a star in the default team emerged that being Gutierrez who had such a good development curve many kept in their team whilst selling the rest. Additionally this edition features the first default team player from the continent of Africa, El Moubarki.
[edit]
PES 2009
The team stays the same as PES 2008.
[edit]
PES 2010
The team stays the same as PES 2009 however with the addition of Youth Teams you are able to snap up more young 'made up players' for your team. It is also worth noting that after a season in Master League there is a chance that you'll receive a wonder kid, with the name matching one in this squad.
[edit]
PES 2011
The team stays the same as PES 2009 and PES 2010.
[edit]
PES 2012
The team got a thorough refresh in PES 2012.
[edit]
PES 2013
The PES 2013 edition marked a revolution of the previous ML Default Lineups. All players are renamed and don't have any connections with the previous editions. However, the positions, stats and team place are alluding to those of the PES 2012 edition's players. There are two default squads in the game, a European team and a Latin American team.
[edit]
Trivia
Most PES players are put off from using these players as their statistics are so bad. Although some fans like the challenge of playing with the defaults and then building a team from there.
In PES 2012, in the Club Boss mode, some of the retired default players become managers.
[edit]
Gallery
The default Master League players on PES 2008.
Related Threads
Master League Default Players
- last post by
@ Jul 27, 2010
Master League Default Players
- last post by
@ Sep 22, 2003
Master League Default Player
- last post by
@ Jun 18, 2004
Master League Recommended Players Guide
- last post by
@ Nov 26, 2016
Master League Default Team Discussion Thread.
- last post by
@ Aug 15, 2008