Muller (Classic Brazil)
Müller
Name
Luiz Antônio Correia da Costa
PES Age
24
Nation
Classic Brazil
Position
CF
Nation Squad No.
19
Year Professionally Retired
2004
Key stats
Attack - 88
Response - 89
Shot Accuracy - 87
Müller is a player for Classic Brazil who spent most of his club career in Brazil and therefore was never licensed in a PES game. However after he retired he was placed into the Classic Brazil squad and hasn't left since. Although not as dangerous as Pele, Muller is still a useful player although he usually gets more assists than goals which is unusual for a striker. His name requires changing from Miracir as Konami don't hold the licence for the classic teams.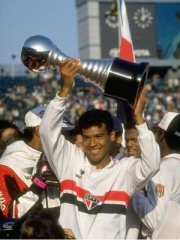 Related Threads
Classic Brazil Names?
- last post by
@ Nov 10, 2007
Classic Brazil - Classic Argentina
- last post by
@ Oct 28, 2008
classic brazil?
- last post by
@ Dec 17, 2007