Network Mode
Network mode or Online mode was first introduced to the PES series on Pro Evolution Soccer 5. In Pro Evolution Soccer 2008 there were many problems with lag which lead to widespread criticism of the online mode as many people found it inaccessible. Despite patches to try and fix it the problem has never really been resolved. There are also many cheaters on the online mode who try and gain 100% records by disconnecting when on the verge of a loss.
This is very frustrating part of PES and has been since its creation. Although some players like the competition, the games can get heated and the frustration levels can become so high that problems occur. Some PES players have been banned from Xbox Live as a result.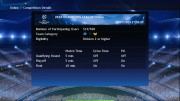 Related Threads
Questions about the network mode.
- last post by
@ May 14, 2008
NETWORK PROBLEMS PES 2009
- last post @ May 24, 2009
Network connection ?
- last post by
@ Mar 26, 2008
Network Online
- last post by
@ Jul 6, 2007
Pro Evo Network is back! (360 & PS3 leagues)
- last post by
@ Jun 12, 2013