PES 2009 Version 1.20
November Update
Official Name
Version 1.20
Release Date
10/11/08
Type of Update
Online
Preceeded By:
Version 1.10
Exceeded By:
Version 1.30
Version 1.20 or the November Update was an official free online update to PES 2009 which was provided by Konami.
To the delight of many PES fans, the update included four new Spanish licenses that saw Atletico Madrid, Racing Santander, Sevilla and Valladolid become fully licensed.
Champions League mode was also improved. The rosters and kits were updated while the licensed CL teams had their crests and badges updated too. Whilst the font for the scoreboards changed aswell as adding third kits for Liverpool and Manchester United.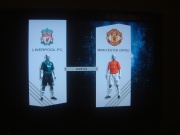 When PES 2009 was first released, it received criticism that teams were not up-to-date. Fortunately, the update was used to provide us with the latest squads and formations. New players like Jack Wilshere, Jose Baxter, Rafael, Fabio and Kerlon were also added. However it did remove players such as Diego Polenta and Thomas Gravesen (who retired).
The update also provided us with the Theatre Of Legends which is available when playing Become a Legend online.
[edit]
Criticism
However there are still some noticeable mistakes such as Andriy Voronin still being at Liverpool, despite playing for Hertha BSC at the time. Danny Alves is missing from the Zenit roster, Keith Andrews is missing from Blackburn, Walter Lopez is missing from West Ham even after the update and Ariel Ortega is still in the River Plate squad.
Related Threads
PES 2009 News & Rumours
- last post by
@ Aug 28, 2008
PES 2009 News & Rumours (Links On First Page)
- last post by
@ Aug 26, 2008
New modes in Pes 2009!
- last post by
@ Apr 9, 2008
Music Editing PES 2009 (full details)
- last post by
@ Oct 29, 2008
searching option file [ps2] pes 2009 season 2009/10 with bundesliga
- last post by
@ Sep 10, 2009