Penalties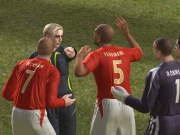 Penalties occur when a player is fouled inside the penalty area and instead of a free kick the player is allowed to shoot from 12 yards without a wall of players obstructing. In later versions of PES it is possible to gain a penalty by diving.
[edit]
PES 2008 (Glitch)
In PES 2008 when taking a penalty aginst CPU opponents, if you shoot straight down the middle and low, the CPU goalkeeper has been set to dive either left or right. It is a sure-fire way to score every penalty.
[edit]
PES 2009
In PES 2009 there are 6 different styles of penalties including Cristiano Ronaldo's stop start penalty. Penalty styles can be changed in the editor under "motion".
[edit]
PES 2010
In PES 2010 they changed the penalty system to make it harder to score but allowing greater control over the penalty as you decide the power and therefore the slight overuse of power can send the ball wide.
[edit]
Tutorial
Below is a penalty tutorial to help improve your success rate and accuracy.
[edit]
See also
Related Threads
Penalties
- last post by
@ Sep 6, 2006
Best ever penalty shoot out!
- last post by
@ Apr 27, 2005
Penalties
- last post by
@ Oct 20, 2010
Who else has Figo's penalty?!
- last post by
@ May 19, 2005
Captains & Penalty Takers
- last post by
@ Mar 4, 2007