Pierre van Hooijdonk
Pierre van Hooijdonk (pronounced van HOY-donk) is a former striker from the Netherlands. He is most well known for his free kicks which made him a household name while playing for the Holland national team. During his playing career he was also known for being a journeyman and had short spells at clubs such as Fenerbahce, Feyenoord, Benfica and Celtic to name a few. He also participated in the 1998 FIFA World Cup which is his main reason for inclusion into the Classic Netherlands team.
Now that he has retired he can be found under the fake name Van Ooidork once the Classic Netherlands team is unlocked. This can be done by winning the World Cup with the Netherlands.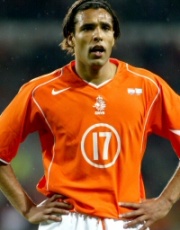 Last
edited
by
iffayquiqleey
on 12 January 2013 at 03:49
This page has been accessed 6,425 times.