Pro Evolution Soccer
Pro Evolution Soccer
Platform(s)
Playstation, PlayStation 2
Release date
2001 (Japan and North America)
23 November 2001 (EU)

Mode(s)
Single-player, multiplayer
Rating(s)
PEGI: 3+
Media
DVD
Latest PES Forum Posts
Pro Evolution Soccer (or PES for short) was the first football game developed by Konami for the Playstation 2. It was released in November 2001. The game is also known as Winning Eleven 5 in Japan.
Previously the games series was known as ISS.
You can find out more on the ISS series here
[edit]
Commentators
The commentators were Chris James and Terry Butcher.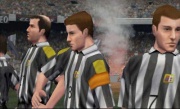 [edit]
Europe
[edit]
South America