Pro Evolution Soccer 2019
Pro Evolution Soccer 2019



Platform(s)
Xbox One, PC, PS4
Release date
NA: 28 August 2018
WW: 30 August 2018
Mode(s)
Single-player, Multiplayer, Online
Rating(s)
PEGI - 3+
Latest PES 2019 Forum Posts
Pro Evolution Soccer 2019 (PES 2019), also known as World Soccer: Winning Eleven 2019 in Japan, is the sequel to PES 2018 that is developed and published by Konami.
This the first game since 2008 that Konami has not included a licensed UEFA competition after deciding not to renew its deal with UEFA for the Champions League, Europa League, and the UEFA Super Cup, which they had held for 10 years. Instead, the license is used in the FIFA series.
Konami have retained the license for the AFC Champions League, Ligue 1, Ligue 2, Eredivisie and Campeonato Brasileiro Série A as well as introduced eight new league licenses and seven new official partners. These are listed below.
Borussia Dortmund was originally included in some of the promotional assets of Pro Evolution Soccer 2019 but decided to terminate their contract with Konami prematurely, despite the contract originally ending in 2020. Additionally RB Leipzig will not appear in the game.
For the first time ever, Liverpool unveiled their new 3rd kit for the 2018-19 season using in-game footage from PES 2019 and have claimed to be the "first club to use video game graphics to launch a new jersey."
On 4 September, Konami announced the Toyota Thai League as a fully licensed league. It will be made available via DLC before the end of the year.
Barcelona and Brazilian forward Philippe Coutinho is the main cover star for the standard version of PES 2019, while David Beckham is on the front cover for the Legend Edition.
As part of the new licensing agreement with AS Monaco, captain Radamel Falcao became an official ambassador for the game and will appear alongside Philippe Coutinho on the French version of the game.
The demo for PES 2019 was released on 8 August, allowing users to experience these key additions at first hand, and features twelve fully licensed teams. They are:
[edit]
Club teams
[edit]
International teams
Games are set to 5 minute matches with a choice of 6 difficulties: Beginner, Amateur, Regular, Professional, Top Player and Super Star.
[edit]
Licensing
[edit]
Official partners
Notes
1 – New partnership for PES 2019

[edit]
National Teams
[edit]
Licensed Leagues
There are fifteen fully licensed leagues, featuring real players, kits and logo.
Notes
1 – New licensing for PES 2019
[edit]
Unlicensed Leagues
Excluding official partners, these leagues will have fictional clubs names, kits and logos. Serie A has a fictional league name but real kits and logos with the exception of Juventus. Fictional second divisions in Italy and Spain will not feature in the game.
[edit]
Other European Leagues
Notes
1 – Official partner

[edit]
Other Latin American Teams
Notes
1 – Official partner

[edit]
Licensed Cup Competitions
Teams Featured in the AFC Champions League
[edit]
Stadiums
Notes
1 – included in the demo
2 – included in DLC post release

[edit]
New Features/Improvements
[edit]
Leagues
This year, PES 2019 welcomes 7 new leagues, an abundance of new partnerships and stadiums. A new global licensing initiative will see leagues from countries such as Belgium, Scotland, Denmark, Switzerland, Russia, Portugal, and Argentina added to the game - with the Russian league exclusive to PES! [4]
PES 2019 will also include lots of stadiums from launch, including FC Barcelona's Camp Nou and Palmeiras' Allianz Park, exclusively.
Additionally, new partner clubs and stadiums will be added after launch. [5]
[edit]
Gameplay
Introduction of 11 new skill traits that will help enhance player uniqueness, including edge turn, no look pass, control loop, dipping shot and rising shot. These new skills increase the total in-game number to 39.
Player individuality has also been taken to the next level, where skills and strengths are more prominent in impact and motion during gameplay. [6]
The 11 new traits are:
Cross Over Turn
Double Touch
Step On Skill control
No Look Pass
Interception
Penalty Specialist
GK Penalty Saver
GK High Punt
Rising Shots
Chip shot control
Dipping Shots
Dribbling animation and fluidity is now based on variety of factors, such as player and ball positioning along the defensive line, precise feint movements to surpass around the sides and awareness of the close proximity of the opposition while turning.
New shooting mechanics with unique varied animations have been introduced, including motion of the ball slipping past the goalkeeper's outstretched hands, reactions of the attacker who just slightly missed and more intense/joyful reactions around the goal area.
A significant introduction is Visible Fatigue, which is a reworked, rebalanced stamina system. Players will give clear visual indications when they are tired, with their stamina level impacting how they play. How you manage players during a match and when you make substitutions could be the difference between winning or losing.
Quick substitutions will be available when the ball goes out of play. A simple button press will give you recommended changes based on stamina and position.
Improvements have been made to make the movement of the ball more natural and varied. The trajectory of the ball is now based on posture and how the ball was kicked. Also, situations like the ball bouncing off the goalkeeper's body or hitting a defender during a block have more realistic outcomes.
Full body touch introduced last year has been further enhanced. How the ball is controlled depends more on the surrounding situation, allowing for smoother and contextual trapping of the ball. [7]
[edit]
myClub
Featured Players
PES 2019 introduces Featured Players, players who have performed well during match weeks. Their Overall Rating will be enhanced depending on their performance, and they may acquire new Skills.
Additionally, partner club players will be given a special Overall Rating through this feature approved by the club itself.
The player's portraits will be displayed in-game with exclusive Featured Players designs. [8]
myClub Legends
Legends such as David Beckham, Diego Maradona, Johan Cruyff , Pavel Nedved, Ruud Gullit, Paolo Maldini and Oliver Kahn will appear in PES 2019. [9]
Value improvements for player purchases with myClub Coins
The cost to sign one player will now be 100 myClub Coins. Additionally, there will be Agents that can sign 3 Players for 250 myClub Coins. Naturally, if you're running short on myClub coins, there will also be plenty of Agents who can be used with GP, too. [10]
Introduction of duplicate players and Trade system
You will now be able to sign duplicate players. Additionally, if you have 3 duplicates you will be able to trade them for a single Player of the same rarity. Improve your myClub team by making more specific trades to sign the best stars or members of your favourite club! All players acquired through trading will be at Lvl. 1. [11]
Maximum Player Slots increased
The maximum number of players acquired via Agents and Scouts that you can possess at any one time has now been raised to 1,000, therefore, it will no longer be necessary to expand slots. Try various different player combinations and strategies by building multiple different squads. Train them up and test them out in limited events in the WHAT'S ON page. [12]
Skill Trainers
Assign a Skill Trainer to a player to teach him a new Player Skill. Expand each player's repertoire of skills to increase his value to the team. [13]
Position Trainers
Assign a Position Trainer to a player and boost his suitability to a specific position. The more players in your team that can play different positions, the more options you have to help you win! [14]
Flexibility in acquiring managers
Manager lists will update more often, giving you a better chance of acquiring the manager with the formation and strategy settings you have been looking for. [15]
Compete and earn Acclaim
Acclaim is a new system that represents your skill level in 1 v 1 matches against other users in myClub. Each user has an Acclaim level which can be improved by racking up wins, with winners of tournaments awarded special Acclaim titles. [16]
Weekly PES League rankings
All matches in myClub influence your ranking, which is used to determine your overall division standing. Additionally, users of similar skill levels compete against one another on a weekly basis in Group Rankings, with top competitors from each group receiving rewards at the end of each weekly cycle. Check out the tournaments that will take place in WHAT'S ON daily and compete for a higher group or division standing. [17]
Compare Squads with your rivals
You will now be able to see the squad of each user from the rankings screen. Analysing the squads of rivals who have bested you or top ranking users will surely be a valuable tool in your strategic arsenal. [18]
[edit]
Graphics
4K HDR support across all capable platforms. New enlighten software has been used to rework lighting, both natural and stadium based.
Snow weather effects have been added which will affect gameplay.
The crowd has improved animations and sound.
[edit]
Master League
In Master League, the pre-season now features the International Champions Cup. Additionally, there are improved negotiations for transfers, budget management and more licensed leagues.
Player development will be more accurate and realistic, supporting all new 11 new skills traits that were added to PES 2019. "GK skill" added to key training. Furthermore, there will be a function to distribute the degree of focus for each training item. Users will also be able to develop players according to their team strategy. [19]
[edit]
Data Pack
[edit]
Data Pack 1.0
Data Pack 1.0 was released on the first day and introduced official trophies for newly licensed leagues, as well the latest boots and ball.
Included are:
Trophies: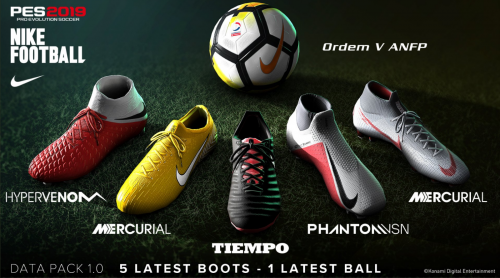 Ball:
Boots:
Hypervenom
Mercurial (yellow)
Mercurial (white)
Tiempo
Phantom VSN
[edit]
Gallery
[edit]
PSN Hong Kong Leaks
[edit]
Announcement Trailer
[edit]
New Leagues Announcement
Related Threads
PES 2019 now has Schalke 04 licence
- last post by
Mindenhol
@ Jun 23, 2018
Pro Evolution Soccer 2019 Announcement
- last post by
@ May 9, 2018
Pes 2019
- last post by
@ Aug 30, 2018
PES 2019: Seven New League Licenses Announced - Pro Evolution Soccer 2018
- last post by
Mindenhol
@ Jun 20, 2018
PES 2019: Seven New League Licenses Announced
- last post by
Mindenhol
@ Jun 20, 2018