Pro Evolution Soccer 4
Pro Evolution Soccer 4
Platform(s)
Microsoft Windows, PlayStation 2, Xbox
Release date
5 August 2004

Mode(s)
Single-player, multiplayer
Rating(s)
PEGI: 3+
Media
Optical disc
Latest PES 4 Forum Posts
Pro Evolution Soccer 4 (or PES4 for short) is a football game developed for consoles such as the PS2 and Xbox by Konami. The Game was released in 2004. The box art for PES4, like PES3, displays an image of then referee Pierluigi Collina, despite the fact that he does not appear in the game. Francesco Totti and Thierry Henry also appear on the cover. PES4 was the first of the Pro Evolution Soccer series to support online play but only on the Xbox. It was the first game to have licensed leagues with Serie A, Eredivisie and La Liga.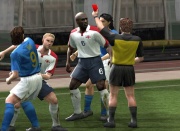 Last
edited
by
iffayquiqleey
on 17 January 2013 at 21:41
This page has been accessed 22,900 times.