Pro Evolution Soccer 5
Pro Evolution Soccer 5
Platform(s)
Microsoft Windows, PlayStation 2, PlayStation Portable, Xbox
Release date
2 October 2005

Mode(s)
Single-player, multiplayer
Rating(s)
PEGI: 3+
Media
DVD, UMD, DS Card
Latest PES 5 Forum Posts
The Pro Evolution Soccer 5 (often just PES5) box-art features Chelsea's John Terry and Barcelona's (Arsenal's at the time) Thierry Henry. The game was available for PC, PlayStation 2 and Xbox. The game had a much slower pace than its predecessors which surprised and angered many PES fans but was welcomed by others who thought 4 was too fast. However it was the first to introduce the online mode on all consoles. The game was infamous for the referee halting play for very tedious fouls.
[edit]
Changes
[edit]
Additions
PES5 was also the first Pro Evolution to appear on the PSP and Xbox and despite it being slowed down it is considered by many players the best Pro Evolution game due to its realism and amazing step up from PES 4, these included:
More realistic Preset Faces
The ability to customize kits by overlaying patterns, pasting on logos for sponsors and combining 1st and 2nd kits.
The introduction of snow
More Edit appearance options such as untucked shirts and under-shorts
More realistic player interaction (such as cold air being visible out of the players mouth)
Online play
[edit]
Licensing
This was also the last installment to feature a German League.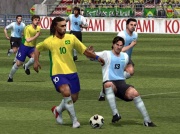 Related Threads
Iniesta 5* / Fabregas 5* / EUS Marchisio / CLS De Rossi / NDS Cazorla
- last post by
@ Sep 18, 2015
Which midfield to Ultra ? 5* Alonso/5*Hazard/5*Iniesta
- last post by
@ Apr 6, 2015
5* Messi , CLS De Rossi/5* Alonso
- last post by
@ Apr 9, 2015
PES 2018: 5 Ways to Make Football Life More Engaging
- last post by
@ Jun 16, 2017
Problem with 5* Godín
- last post by
@ Nov 2, 2015
Last
edited
by 131.255.131.140 on 26 March 2017 at 09:26
This page has been accessed 34,303 times.