Rabona
The Rabona is a football skill in Pro Evolution Soccer series. Some gamers see scoring a goal using the Rabona as a major achievement, as it is an extremely difficult move to pull of successfully and frequently.
Many PES fans are still left disgruntled however, as they are yet to see the Rabona as a cross, rather than a shot. This is because, like the real life equivalent, the Rabona skill is used more frequently as a cross than a shot, something that PES has yet to feature.
The Rabona is used as a substitute for a player using their weaker foot, so the player wraps their stronger foot behind their weaker foot and strike the ball. In PES, players with a Technique skill of 85 or above, and a Weak foot frequency of 3 and lower are all capable to execute the Rabona. This means that the gamer can adjust a players stats, to make them able to perform the Rabona. Along with this, some players already capable of doing the Rabona such as Cristiano Ronaldo, do not meet the requirements to do the Rabona, Ronaldo has a weak foot frequency of above 3, but can still perform the Rabona. Unlike The Elastico however, where the players who can execute the Elastico in real life are given the ability on PES, their are several players capable of doing the Rabona to who have yet to use it in real life, Lionel Messi is one example.
A few players capable of executing the Rabona are Lionel Messi, Alvaro Recoba, Adriano, Ricardo Quaresma and Cristiano Ronaldo among others.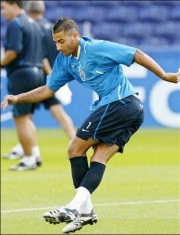 Related Threads
Rabona Kick
- last post by
@ Nov 22, 2004
Rabona and the Flip - Flap
- last post by
@ Aug 16, 2006
Rabona
- last post by
@ May 23, 2006
Who can do the rabona?
- last post by
@ Feb 4, 2005
facial fix, flip flap, rabona
- last post by
@ Nov 14, 2004