Rai
Raí
Name
Raí Souza Vieira de Oliveira
PES Age
28
Nation
Classic Brazil
Position
AMF
Year Professionally Retired
2000
Key stats
Body Balance 90

Dribble Accuracy 92 Short Pass Accuracy 87
Raí is the younger brother of Socrates and a Brazil legend in his own right. A member of the Classic Brazil team, he participated in the 1994 World Cup and also played for PSG. While arguably not as good as his older brother in the PES games he is still an important member of the team under the false name Rasan.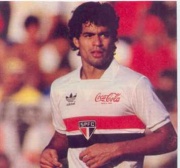 Last
edited
by 177.6.219.3 on 16 March 2013 at 18:20
This page has been accessed 5,008 times.