The Elastico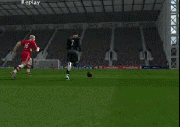 The Elastico (known as the Flip-Flap and Akka also) is a football trick, which has been introduced into recent editions of the Pro Evolution Soccer series, after several European based footballers started using the move on a frequent basis.
[edit]
Pre PES 2010
The Elastico was only added as a hard-coded feature, meaning that players of PES, can not edit a players stats to enable the player being edited to be able to perform the Elastico (unlike the Rabona), but that Konami had programmed the move to certain players already in the game, and thus the Elastico is not able to be edited in via stat changes.
[edit]
PES 2010
To make it easier to understand who can perform the trick, it is now a card that can be selected in the edit menu. This then makes only a few players capable of performing the trick.
To perform the trick you must press a diagonal direction arrow in the way you are facing and then the other diagonal direction quickly.
[edit]
PES 2011
In PES 2011, there is a variant from the regular Elastico which is called the Reverse Flip Flap. This involves the player moving the ball in an opposite direction than the regular variant, which therefore means to perform the Reverse Flip Flap you need to move the ball inside to the outside. To execute both variants of the skill perfectly, you will require the corresponding skill card that features in the game.
[edit]
Players Able To Perform The Trick
Notable players to be able to perform the Elastico are Ronaldinho, Robinho, Ronaldo, Cristiano Ronaldo, Park Chu Young (In PES6), Zlatan Ibrahimovic, Royston Drenthe, Gabriel Obertan, Julio Arca, Obafemi Martins, Rodrigo Taddei, Fred, Diego Forlan, Juan Roman Riquelme, Naohiro Takahara, Karim Benzema, James Milner, Bakari Kone, Djibril Cisse, Christian Wilhelmsson, Mauro Rosales, Yoann Gourcuff (After February Update) and Rivelino (of Classic Brazil).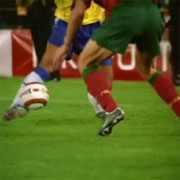 Related Threads
ELASTICO Move (Flipflap) - Ronaldinho, Ronaldo, Ibrahimovic...
- last post by
@ Aug 7, 2006
ELASTICO Move (Flipflap) - Ronaldinho, Ronaldo, Ibrahimovic...
- last post by
@ Aug 4, 2006