African Cup of Nations
African Cup of Nations
Founded
1957
Region
Africa
Number of Teams
14 (Finals)
Current Champions
Nigeria
Most Successful Country
Egypt (7 Titles)
The African Championships is a competition of Africa's best teams such as Ghana, Egypt and the Ivory Coast. In order to qualify, they either must be placed second or higher in their qualifying group or host the tournament.
When reaching the final stage, teams are drawn into four groups of 4 and then the top two from each one play in knock-out rounds against each other.
In PES unlike the European Championships and the International Cup the qualifying phase does not appear and the PES format is completely different as there are no groups, just a straight knock-out phase because of the shortage of African teams in the game.
In PES winning the African Cup of Nations will unlock players that were before not available in the game, mostly Classic Players from that continent.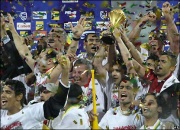 Related Threads
African Cup of Nations 2010 competition
- last post by
@ Apr 14, 2008
African Cup of Nations 2008 competition
- last post by
@ Mar 3, 2008
pes 2016 national cups
- last post @ Jul 9, 2016
Last
edited
by 196.206.179.93 on 25 February 2018 at 06:36
This page has been accessed 7,692 times.