Alexander Baumjohann
Alexander Baumjohann
Name
Alexander Baumjohann
Age
31
Nation
Germany
Position
AMF
Club Squad No.
29
Nation Squad No.
Key Stats
Alexander Baumjohann is a young German attacking midfielder who became a some-what cult legend amongst the PES gaming series characteristically he was one of the best developing talents on the games he appeared on. He now plays for 1. FC Kaiserslautern.
Baumjohann first appeared on PES 4, where he was a 17 year old at German club Schalke 04. His pace, dribbling, passing and shooting were all very highly rated for such a young player and with the correct training and patience, he would develop into one of, if not the best attacker in the game in the game's Master League mode. He was also versatile, with the ability to play just behind a main striker or on the wing. Initially, his development would shoot up until his late teens/early twenties, until his development actually declined for a few years before finally peaking around the age of 25 to 27 (as can be seen in the screenshot below).
[edit]
Removal
Due to the removal of the Bundesliga in PES6, Baumjohann is no longer involved in the game by default. Unfortunately, his potential PES ability has not reflected his real life development and in January, 2007, found himself transferred to Borussia Monchengladbach after failing to make an impact at Schalke.
[edit]
PES 2013
He makes return following his club being present.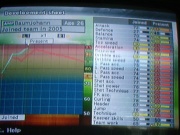 Last
edited
by 109.93.204.13 on 18 November 2012 at 02:32
This page has been accessed 11,595 times.