Asian Cup
Asian Cup
Founded
1956
Region
Asia
Number of Teams
16 (Finals)
Current Champions
Japan
Most Successful Country
Japan ( 4 Titles )
Saudi Arabia ( 3 Titles )
Iran ( 3 Titles )
The Asian Cup is a competition of Asia's nations. In order to qualify they must be placed second or higher in their qualifying group or host the tournament. Another way to qualify for this tournament is AFC Challenge Cup which held every two years after. In 2011 Asian Cup India and North Korea were qualified by winning this tournament in 2008 and 2010 respectively.
In PES the tournament is merely a straight knock out competition and winning the Asian Cup will Unlock players that were before not available in the game.
The current holders of the Asian Cup is Japan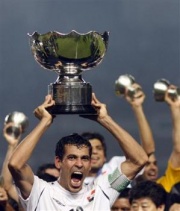 Related Threads
pes 2016 national cups
- last post @ Jul 9, 2016
Last
edited
by
abhijeetp3
on 5 March 2013 at 00:45
This page has been accessed 6,750 times.