Become a Legend
The Become a Legend Mode is a game mode which was introduced in PES 2009. Based on the Master League, it is thrown into a different perspective: the player's.
While its introduction drew comparisons to FIFA's Be a Pro mode, which has the same concept but was introduced one year earlier (in FIFA 08), a similar mode already existed in Winning Eleven 10 (the Japanese version of PES 6), called Fantasista.
[edit]
PES 2009 and PES 2010
The Become a Legend mode starts first by creating your player, the facial features can be done with either the Eyetoy or you can build your face from scratch. With the Eyetoy or any other compatible camera (such as any webcam in the PC versions), you scan your face onto a player's body.
The game starts properly with your player as a 17-year-old rookie at the fictional club Babilayna CF playing against Athletic Club Salsabie in a match that is being watched by many scouts from different clubs. After this match, the player will receive proposals from two to three different clubs depending on his performance, which will also affect the quality of the clubs that will be vying for him.
After choosing a club, the player must take part in a series of training matches against the first team, and perform consistently well so that the coach will take note and promote the player to the first team, first as a substitute, then as part of the starting eleven. You can then earn transfers to bigger clubs in different leagues and even get called up for your national team, depending on whether the player's chosen country has a playable national team in the game. Throughout the seasons you also get to hone your skills with six main attributes in particular: kicking, dribbling, balance, power, speed and stamina. Like in the Master League, the players' ages increase by 1 at the end of each season, including yours; once you reach the age of 27, you are given the option to retire, but retirement is compulsory at the age of 35.
[edit]
PES 2011
In PES 2011 you start Become a Legend by first creating your player. You give him a name, commentary, facial features etc. You then choose the style of player that he is. These are the options:
All rounder (create a well balanced all round player)
The Finisher (create a clinical finisher)
Creative midfielder (create a good passer)
Dribbling (create a skilful dribbler)
Shooting star (create a pacey speedster)
Heavy tank (create a strong powerful player)
Human dynamo (create a tenacious battler)
You then choose specific focus points out of:
Shot
Pass
Defence
Dribbling
Power
Speed
Stamina
You then have stats based around those. You'll normally start off with an overall of around 60. The type of player you pick then decides what cards you get.
They've also revamped the style and introduced a new menu layout. They also introduced where the manager highlights the exact team style he wants the players to play with individual instructions and target men. At the end of the game, the manager will review your performance and tell you where you went wrong or what you need to work on. At an off-chance, your captain may also talk to you, discussing your role in the team.
They've also introduced real currency into the game for the first time. Furthermore, you no longer play for Babilayna CF as the first match, but instead transfer straight to a club (you only get to choose the league, though; the team where you will play is chosen at random, usually being one of the weaker ones). Then you play training match however this time instead of against you own team, you play against fellow competitors. You then have training where you can distribute 11 focus points between different criteria. The team you play for also adds to the focus points, therefore the better the team you play for, the better your training. Training is also where you can learn a new skill card or a new position. However doing this, you have less focus points for the other criterion.
Another addition is agents, where you start with a basic agent but as you build up your wages, you're able to hire a better agent. A better agent leads to better contract negotiations and better opportunities for you. Furthermore, you can add a 'desired club' to a list where your agent will attempt to cement a deal with said team.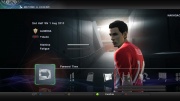 [edit]
PES 2012
The same start-up process applies to PES 2012, from the previous year.
[edit]
PES 2011 to PES 2013(PSP And PS2)
The PSP and PS2 version is played in the style of PES 2010 but with some features added and removed.
[edit]
Added Features
Player Model (the style of player)
You can distribute 20 ability points.
You can add 1 special skill star.
[edit]
Removed Features
You can no longer play training matches with your team, but rather be a substitute. Therefore, you will have to rely only on your on-pitch performance in order to secure a spot at the first team.
Note: The section of Removed features are just features that had been available on PES 2010.That also means that you cannot hire an agent.etc
[edit]
Online Legends
A new mode to PES 2009 was the option for online legends where you team up with other players from around the world to play as many as 4 v the CPU. You select your Become a Legend player and then compete in matches. You're also able to save goals to show to the rest of the world due to the points scoring system. Good build up and linkage can lead to a high score. This mode was removed on PES 2013.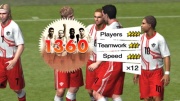 Related Threads
R. Parmar - Becoming A Legend
- last post by
@ Jul 20, 2014
Five Ways to Improve Become A Legend
- last post by
@ Mar 11, 2014
R. Parmar - Becoming A Legend III
- last post by
@ Dec 13, 2014
Become a Legend IV
- last post by
@ May 22, 2012
Become a Legend III
- last post by
@ Mar 9, 2011