Bundesliga
The Bundesliga (referred to in-game as German League) is the top flight of German football. Unlike the other main European leagues which have been consistently featured since PES 4, the German League only appeared in two games, PES 4 and PES 5 (as well as the latter's spin-off, Pro Evolution Soccer Management), having been left out from PES 6 onward, to the disappointment of many PES fans. However, some German teams have intermittently featured in PES in small numbers since the league's dismissal, with FC Schalke 04 being the only confirmed team from the country in PES 2019.
Coincidentally, the German national team have been included in every PES title, but they have been unlicensed in every one until PES 2010. Each player has a 'fake' name and this has caused much criticism. For example in PES 2008, Miroslav Klose was called Kmala. This caused confusion in the Master League mode as you still had both players, licensed and unlicensed, that had identical statistics.
However there are many PES fans that create option files that include German teams to get over this problem. Thousands of people download option files with the Bundesliga on it, created over a placeholder league (currently the PEU League) to the delight of the file creators.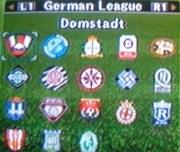 [edit]
PES 2011
Bayern Munich and Werder Bremen are licensed in PES 2011.
[edit]
PES 2012
Bayer Leverkusen replaces Werder Bremen in PES 2012.
[edit]
PES 2013
Schalke 04 replaces Bayer Leverkusen in PES 2013.
[edit]
PES 2014-2015
Both FC Schalke 04 and Bayer Leverkusen are set to appear in game, along with Bayern Munich.
[edit]
PES 2016
Bayern Munich features alongside Wolfsburg and Borussia Monchengladbach.
[edit]
PES 2017
Borussia Dortmund, FC Schalke 04 and Bayer Leverkusen are licensed.
[edit]
PES 2018
Borussia Dortmund, FC Schalke 04 and RB Leipzig are licensed.
[edit]
PES 2019
FC Schalke 04 and Bayer Leverkusen are licensed.
[edit]
Club Teams
Teams that are participating in the Bundesliga as of recent are:
[edit]
Other Clubs
Related Threads
What Konami acquiring Bundesliga rights means to PESC?
- last post by
@ Aug 20, 2017
How to convert PES league into Bundesliga after starting BAL
- last post by
@ Dec 24, 2012
Bundesliga Option File
- last post by
@ Jul 1, 2013
1. & 2. Bundesliga German Patch by Hellraiser
- last post by
@ Jan 13, 2011
searching option file [ps2] pes 2009 season 2009/10 with bundesliga
- last post by
@ Sep 10, 2009