David Beckham
David Beckham
Name
David Robert Joseph Beckham
Age
43
Nation
England
Position
SMF, CMF
Club Squad No.
7
Nation Squad No.
7
Key stats (PES 2013)
Long Pass Accuracy - 98
Place Kicking - 96
Swerve - 99
Previous Clubs
Manchester United
Real Madrid
AC Milan
LA Galaxy
David Beckham is a former English right-sided midfielder who last played for Paris Saint-Germain.
Previously he has appeared in the PES series with Manchester United and Real Madrid. Beckham wore the number 7 shirt for England and Manchester United, and the number 32 for Milan and Paris Saint-Germain (23 for Galaxy), a trademark for Beckham himself.
He is known throughout the series for his impressive passing stats, as well as his free kick ability; Beckham is often seen as one of the best passers and set-piece takers on the game.
[edit]
PES 2009
Beckham appears in the England squad but without a club as they do not appear in the game. However he is added to the AC Milan squad after the February Update following a real life loan switch.
[edit]
PES 2010
Beckham is a member of the England national team and not affiliated with any club as his real life team, L.A. Galaxy, are not in PES 2010 meaning he only appears in Master League as a youth player. However, after making an impression at AC Milan while on loan in early 2009, Beckham has returned to AC Milan once again on loan in January, 2010.
[edit]
PES 2011
Beckham plays for LA Galaxy and is only available as a PES-Shop unlockable player under the name Baythom.
[edit]
PES 2012
Beckham disappears from PES 2012 as the only players available in the PES-Shop are the classic ones.
[edit]
PES 2013
Beckham is back in PES only after the March DLC because of his recent transfer from Los Angeles Galaxy to Paris Saint-Germain in January 2013. This is the last appearance of Beckham in PES as an active player since he retired at the end of the 2012/2013 season.
[edit]
PES 2014
Beckham will be featured in Classic England under fake name of Baythom.
[edit]
Set Piece Style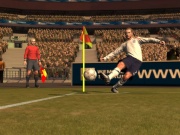 In PES 2009 Beckham is one of only two players to have a unique corner kick style. Beckham is often seen running up to strike the ball differently than to any other player on the game, apart from Master League Youth Kaiser who shares this style. However since PES 2013, Gareth Bale is also seen to use this style. As corner kick styles are not editable, this makes Beckham and Bale the only players, playable from default capable of doing this, as Kaiser only appears in the Master League mode. Along with his corner kicks, Beckham also has his trademark free-kick style similar to his corner style which Bale can also perform. His style is often said to be one the favourite free-kick styles, as the player is able to create an immense amount of curl on the ball, while maintaining a high power.
Related Threads
the correct hair of david beckham
- last post @ Dec 16, 2002
Realistic Beckham Face
- last post by
@ Oct 24, 2003
Beckham! HELP!
- last post by
@ Jan 4, 2003
Free Kick Tip! Beckham!
- last post by
@ Dec 29, 2002