Germany
Germany
Team Name
Germany
Nickname(s)
Nationalmannschaft (National Team)
Nationalelf (National Eleven)
DFB-Elf (DFB Eleven)
Die Adler (The Eagles)
Die Mannschaft (The Team)
Stadium
Various
Manager
Joachim Löw
Captain
Manuel Neuer
Confederation
UEFA
Germany (pronounced JER-ma-nee) are know in real life as a football superpower, however in previous versions PES they sometimes struggle to match their so called "super" rivals such as France and Italy due to, mostly, a lack of pace and a weak defence. However since their licensing they seem to have been stated in one of the top nations in the game. Every PES game up until PES 2010 Germany had never been licensed and had all players listed under fake names therefore creating duplicates of their counterparts playing for clubs sides. Their home strip is white shirts, black shorts and white socks, while the away strip is all red.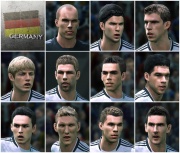 [edit]
Tactics & Players
[edit]
PES 2010
The Germans are most effective using a 4-4-2 formation with a midfield diamond. Tim Wiese is recommended over Robert Enke due to being more reliable. The defence is weak and therefore registering the missing Christoph Metzelder is a must. The midfield picks itself with Thomas Hitzlsperger as the holding midfielder, Bastian Schweinsteiger and Piotr Trochowski on the flanks and Michael Ballack as the playmaker. Miroslav Klose is a definite for one of the striking berths while either Lukas Podolski or Mario Gomez fills the other depending if you wish to have pace or aerial ability.
[edit]
PES 2018 Squad
Europe

·

·

·

·

·

·

·

·

·

·

·

·

·

·

·

·

·

·

·

·

·

·

·

·

·

·

·

·

·

·

·

·

·

Related Threads
Attack the 一平 frog (14-21 August 2018) - NDS Germany and Classic Kahn
- last post by
@ Aug 24, 2018
NEW Germany NDS/NDG!
- last post by
@ Dec 3, 2014
player names for classic germany PRO 2008
- last post by
@ May 1, 2008
Battle Challenge (NDS Germany Bonus)
- last post by
@ Dec 13, 2016
Attack the Frog and New NDS Germany!
- last post by
@ Aug 6, 2016
Last
edited
by
A_Kusanagi
on 6 January 2018 at 07:29
This page has been accessed 69,673 times.