Johan Cruyff ArenA
Johan Cruyff ArenA
Opened
1996
Country
Owner
Ajax
Capacity
52,342
First Appearance
PES as Orange Arena
Johan Cruyff ArenA formerly as Amsterdam AreA is a stadium that is home to Ajax and is one of the biggest stadiums on the game.
Since August 2009 there are Sony screens (16:9) in the Arena instead of the blue Philips screens. The Sony screens also have a smaller screen on the back. In PES 2010 are the blue Philips screens still shown. However, it was removed in PES 2013 to the dismay of many PES fans.
However in PES 2017 there is a stadium called: 'Hoofdstad Stadion' what is most likely based on the Amsterdam ArenA.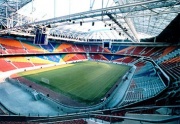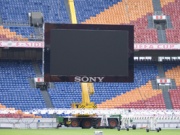 Last
edited
by
Super Star TV
on 17 September 2018 at 23:19
This page has been accessed 6,356 times.