Jurgen Klinsmann
Jurgen Klinsmann
Name
Jürgen Klinsmann
PES Age
25
Nation
Classic Germany
Position
CF
Year Professionally Retired
2003
Key stats
Attack 95

Response 94 Shot Accuracy 91
Jürgen Klinsmann is a German former footballer now playing in the Classic Germany team unlocked after winning the World Cup with Germany. He is now a manager in real life, in charge of the United States national team. Throughout his playing career he has played for several clubs including Bayern Munich, Inter and two spells at Tottenham Hotspur. During his playing career he had the reputation of being a diver but also a skilful and tricky striker who scored many famous goals. In PES he is known as Clantzgan.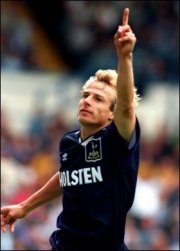 Last
edited
by 177.105.197.167 on 1 December 2016 at 09:25
This page has been accessed 9,654 times.