Jurgen Kohler
Jurgen Kohler
Name
Jürgen Kohler
PES Age
25
Nation
Classic Germany
Position
CB
Nation Squad No.
Year Professionally Retired
2002
Key stats
Defence 95

Body Balance 97 Agility 85
Jürgen Kohler is a German former footballer who played as a centre back. Kohler has never been licensed in a PES game and he is currently known as Kolman for the Classic Germany team. During his playing career he mainly played for Borussia Dortmund where he was arguably the best defender. He also has over 100 caps for the Germany team where he played alongside greats such as Lothar Matthaus which helped give Germany a reputation as being one of the most defensive teams in the world during this era and few teams could even score against them.
[edit]
PES 2013
In this version of the game Jurgen Koller is a recommended signing in Master League, as he is only 25 years old and is arguably the best Central Defender in the game with 99 overall.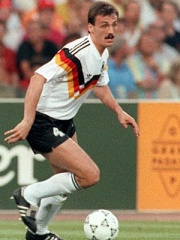 Last
edited
by 94.71.26.58 on 11 January 2014 at 08:09
This page has been accessed 7,415 times.