myClub
myClub is an online mode that gives the player the platform to create an original team and face both human and COM opponents. Create a squad based on cost and the right blend of players for your desired tactics. Strategies and tactics are dependent on the manager you select to be in charge. Training your players to improve them is a key component to successful management.
Then, play matches against human or COM opponents. Your players will age while they develop. New agents and GP (in game currency) can be obtained as match rewards which will help improve your team.
Konami will usually provide myClub bonuses through pre-ordering or purchasing special edition version of the game. For example, in PES 2018, the Premium Edition rewarded the player with a Champions League Agent for myClub (rated 75+) and Usain Bolt.
PES 2019 introduced Featured Players, players, in real life, who have performed well will be rewarded during match weeks. Their Overall Rating will be enhanced depending on their performance, and they may acquire new Skills. This will allow you to acquire your favourite players but at higher ratings.
[edit]
Currency

myClub Coins: In-game currency bought from real life money. These are purchased via the myClub Store.

GP: Is an in-game currency which can be earned mainly through match rewards. You can also earn GP from completing achievements in PES 2018.
Both forms of in-game currency can be used to purchase agents, hiring managers, signing players on loan, renewing the contracts of managers and players, and to aid players' recovery from fatigue.
[edit]
Trainers
You can convert a player in your team into a trainer. You can train your player by using a trainer in the "Training" menu in myClub. Training raises a player's level. As a player's level increases, his ability will improve and your squad is strengthened.
A trainer can only be used once before being consumed.
[edit]
Signing Players
[edit]
Scouts
Scouts can be purchased on auction by using GP or obtained through playing matches. When using a Scout to obtain a player, the level of the player will be 1. The rarity of each player is indicated by the colour of the ball and is based on their Overall Rating at level 30.
The strength of your Scouts depends on how many stars it has. This ranges from 1 Star to 5 Star, progressively producing better players. A 1 Star Scout can only produce a White Ball player, whereas a 5 Star Scout can produce any Ball Type player.
By combining multiple Scouts, you can focus on finding the type of player you are looking for. You can combine a maximum of 3 Scouts at one time, and the average stars of the Scouts will be rounded down. For example, combining one 3 Star Scout and one 4 Star Scout will produce a Silver Ball player.
Star
Ball Type
Overall
Rating
White
40–69
Bronze
70–74
Silver
75–79
Gold
80–84
Black
85+
PES 2018 added Skill and Playing Style based Scouts (only obtainable from auction), creating additional combinations in order to find your desired players. For example, in order to try and obtain Luka Modric, a Real Madrid and a Classic No. 10 Scout could be combined.
[edit]
Agents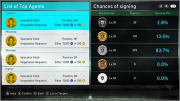 From the contract tab, you can select Top Agent and Special Agent. Using an Agent will cost

GP or

myClub Coins. You are more likely to be able to sign a talented player using Agents than you are by using an ordinary Scout.
You can obtain players by signing a loan contract. The list of loan players that are available is updated regularly, so some player may become unavailable. The loan system allows you to add players to your squad for a limited period. Once the contract ends, the player will leave the club.
Loanees cannot be using in myClub PES League or myClub Competitions.
[edit]
Contracts
The number of matches both players and managers can take part in are dictated by the terms of their contracts. Once the contract expires, the player/manager can no longer take part in matches.
Players will remain on the club's books even if their contracts expire, but they will be unable to participate in matches.
Players on loan will leave once their loan period is complete.
You can renew player's contracts in two ways:
Contract Renewal Tickets can be obtained in Divisions and Divisions (SIM). They can be rewarded for gaining promotion or remaining in your current division, and reflect your division ranking.
[edit]
Managers
You can hire managers by using

GP or

myClub Coins. Each player has various costs, based on their ability. If the total cost of your squad is higher than your manager's management skill, then your Team Spirit will dramatically decrease.
Managers have a familiarity percentage based on how familiar they are with your club which has an effect on Team Spirit. Managers will gradually become more familiar after playing matches. A manager's ability will affect the speed at which familiarity grows. The greater a manager's 'Leadership' skill, the higher their initial familiarity level, the greater a manager's 'Adaptability' skill, the faster their level of familiarity will grow.
When a manager signs a new contract, there are specific targets he must achieve. Achieving these goals will allow you to renew their contract. If their contract expires, you will not be able to use him in matches until it is renewed.
[edit]
Fatigue
Players will become fatigued by playing in matches. They can recover by resting them in matches or purchasing items for instant recovery. Players suffering from fatigue will have a reduced stamina bar at the start of matches, therefore would require substituting earlier.
[edit]
Condition
Since PES 2018, in myClub, the Condition arrows is instead affected by Live Updates released by Konami based on their real life performances. Instead of the Form attribute, players are rated A, B, C, D or E. Players rated A or B in form will likely see their Condition arrow be Top, Good or Normal. Players rated D or E in form will likely see their Condition arrow be Normal, Poor or Terrible. Players rated C in form, or any player not subject to live changes, will likely see varied Condition arrows between matches.
When Live Updates are no longer provided by Konami, the Condition arrows are calculated from a player's Form attribute.
The 5 Condition arrows are:
– Top Condition
– Good Condition
– Normal Condition
– Poor Condition
– Terrible Condition
[edit]
Team Spirit
Team Spirit is an indication of how good relations and overall chemistry are in the squad. It has a maximum value of 99. Team Spirit increases as you select players who have an affinity for the manager's team instructions. A high team spirit naturally leads to better team work. A team with low Team Spirit will likely see players not follow team instructions and find themselves out of position.
Managers have a set "Management Skill" level while players are categorised by "Cost". If total costs exceed a manager's Management Skills, Team Spirit will drop drastically.
[edit]
PES 2018
New additions to myClub in PES 2018:
Play Co-op matches with your players.
Participate in single-player and co-op PES League competitions with your squad.
You can assign shirt numbers for up to 25 players.
Players' maximum levels are based upon their age and default status.
Auctions
You can set a maximum offer during the initial rounds of auction
New scouts with skills and playing styles
Search for new scouting combinations that can sign specific players.
[edit]
Premium Edition
The Premium Edition gave two rewards to the player when redeemed:
[edit]
Legendary Edition
The Legendary Edition gave several rewards to the player when redeemed:
[edit]
Barcelona Edition
The Barcelona Edition gave several rewards to the player when redeemed:
[edit]
PES 2019
[edit]
Featured Players

PES 2019 introduced Featured Players, players, in real life, who have performed well will be rewarded during match weeks. Their Overall Rating will be enhanced depending on their performance, and they may acquire new Skills.
Additionally, partner club players will be given a special Overall Rating through this feature approved by the club itself.
The player's portraits will be displayed in-game with exclusive Featured Players designs. [1]
[edit]
myClub Legends
Legends such as David Beckham, Diego Maradona, Johan Cruyff , Pavel Nedved, Ruud Gullit, Paolo Maldini and Oliver Kahn will appear in PES 2019. [2]
Value improvements for player purchases with myClub Coins
The cost to sign one player will now be 100 myClub Coins. Additionally, there will be Agents that can sign 3 Players for 250 myClub Coins. Naturally, if you're running short on myClub coins, there will also be plenty of Agents who can be used with GP, too. [3]
Introduction of duplicate players and Trade system
You will now be able to sign duplicate players. Additionally, if you have 3 duplicates you will be able to trade them for a single Player of the same rarity. Improve your myClub team by making more specific trades to sign the best stars or members of your favourite club! All players acquired through trading will be at Lvl. 1. [4]
Maximum Player Slots increased
The maximum number of players acquired via Agents and Scouts that you can possess at any one time has now been raised to 1,000, therefore, it will no longer be necessary to expand slots. Try various different player combinations and strategies by building multiple different squads. Train them up and test them out in limited events in the WHAT'S ON page. [5]
Skill Trainers
Assign a Skill Trainer to a player to teach him a new Player Skill. Expand each player's repertoire of skills to increase his value to the team. [6]
Position Trainers
Assign a Position Trainer to a player and boost his suitability to a specific position. The more players in your team that can play different positions, the more options you have to help you win! [7]
Flexibility in acquiring managers
Manager lists will update more often, giving you a better chance of acquiring the manager with the formation and strategy settings you have been looking for. [8]
Compete and earn Acclaim
Acclaim is a new system that represents your skill level in 1 v 1 matches against other users in myClub. Each user has an Acclaim level which can be improved by racking up wins, with winners of tournaments awarded special Acclaim titles. [9]
Weekly PES League rankings
All matches in myClub influence your ranking, which is used to determine your overall division standing. Additionally, users of similar skill levels compete against one another on a weekly basis in Group Rankings, with top competitors from each group receiving rewards at the end of each weekly cycle. Check out the tournaments that will take place in WHAT'S ON daily and compete for a higher group or division standing. [10]
Compare Squads with your rivals
You will now be able to see the squad of each user from the rankings screen. Analysing the squads of rivals who have bested you or top ranking users will surely be a valuable tool in your strategic arsenal. [11]
[edit]
Standard Edition
The Standard Edition gave several rewards to the player when redeemed:
[edit]
David Beckham Edition
The David Beckham Edition gave several rewards to the player when redeemed:
3x Premium Agent x20 weeks (rated 75+)
3x Contract renewals x20 weeks
Philippe Coutinho loan x10 matches
Romario loan x10 matches
1000 myClub coins
[edit]
Legend Edition
The Legend Edition gave several rewards to the player when redeemed:

Related Threads
myClub Preview and Screenshots
- last post by
@ Aug 13, 2014
New Menu Screen and myClub Screenshot
- last post by
@ Aug 14, 2014
MyClub
- last post by
@ Oct 1, 2018
myClub Discussion
- last post by
@ Nov 16, 2016
myclub account hacked
- last post by
@ Jan 31, 2016