PES 2009 Version 1.40
March Update
Official Name
Version 1.40
Release Date
28/03/09
Type of Update
Online
Preceeded By:
Version 1.30
Exceeded By:
Version 1.40 or The March Update was a patch released for PES 2009 provided by Konami.
The main addition was a new kit for England replacing the old one with a polo shirt style to match the one in real life. This was mainly because PES 2009 is the official game of the England national team.
Other changes include some minor player updates. Before this update when Master League teams were exported and used for Exhibition Mode player's stats were set to their default and not the same to what they usually are. This error first occurred after the 1.20 update but has now been fixed with the release of the 1.40 patch.
The most notable update being Eidur Gudjohnsen was added back to the Barcelona squad after being controversially axed.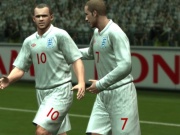 Related Threads
PES 2009 Caption Contest
- last post by
@ Sep 29, 2009
searching option file [ps2] pes 2009 season 2009/10 with bundesliga
- last post by
@ Sep 10, 2009
New modes in Pes 2009!
- last post by
@ Apr 9, 2008
Music Editing PES 2009 (full details)
- last post by
@ Oct 29, 2008
FIFA 2009 v PES 2009 - The Big Topic
- last post by
@ Apr 2, 2008