Pro Evolution Soccer 2009
Pro Evolution Soccer 2009


Platform(s)
Microsoft Windows, PlayStation 2, PlayStation 3, PlayStation Portable, Xbox 360, Wii, Mobile
Release date
October 17, 2008
Mode(s)
Single-player, multiplayer
Rating(s)
PEGI: 3+
Media
Blu-Ray disc, DVD, UMD, JAR
Latest PES 2009 Forum Posts
Pro Evolution Soccer 2009 (often shortened to PES 2009, or simply PES 09) is the latest game in the series after its release in Autumn 2008. Before the game was released it was revealed that creator Shingo Takatsuka had given the game a complete overhaul following the serious criticism of the previous title.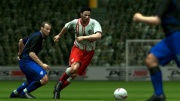 The game supports network play with a reduction in lag compared to PES 2008 although there are still many criticisms as it is far from lag-free. Lionel Messi is featured as the cover although Andres Guardado features on some versions. A new game mode called Become A Legend has been brought in which involves creating a player and taking him through a career. The Master League mode now has two-tier negotiations which involve negotiating with the club first and then the player separately. Also the edit mode was notably improved with badges and kits now being as intuitive as they were on PS2 versions.
Although the game is generally viewed as an improvement, the Online Mode and the omission of players such as Danny Alves, Tomas Zapotocny and Walter Lopez drew plenty of criticism.
The game will be followed by PES 2010.
[edit]
Licensing
[edit]
Licensed leagues
[edit]
Unlicensed leagues
[edit]
Other clubs
Tottenham (North East London) and Newcastle (Tyneside) have reverted back to their unlicensed forms.
[edit]
New national teams
Angola, Trinidad & Tobago and Togo were removed.
[edit]
Miscellaneous
[edit]
Updates
[edit]
See also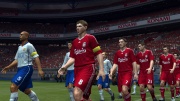 Related Threads
searching option file [ps2] pes 2009 season 2009/10 with bundesliga
- last post by
@ Sep 10, 2009
PES 2009 Cover Thread
- last post by
@ Jan 31, 2009
Pro Evolution Soccer 2009: Header & Footer Contest - Congrats Natman4 and Martins
- last post by
@ May 16, 2009
PES 2009 GFX Thread IV
- last post by
@ Jun 25, 2009
PES 2009 Demo
- last post by
@ Oct 3, 2008